Your Own Personal Classroom
All you need to do is progress through the curriculum as quickly or slowly as your schedule allows and hop on as many live coaching sessions as you can.
Learn more
Best Practices > Bad Habits
Save years of trial & error troubleshooting trying to brute force your way into the Elixir industry all by yourself.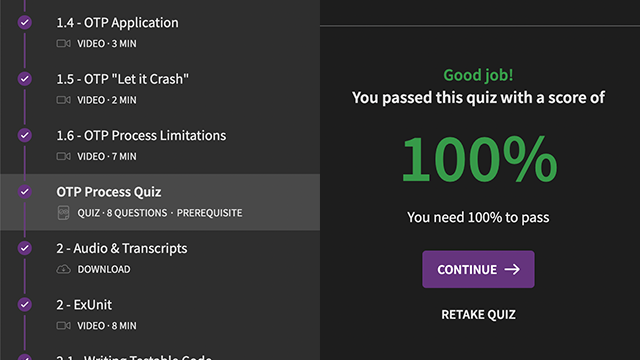 Prerequisites
Comprehension Quizzes
30 short multiple-choice tests designed to check in with you and ensure you're retaining knowledge.
Community
Private Slack Channel
Ask questions, share code, upload screenshots, and get help from Mika or senior members of our alumni.
Best Practices
Code Reviews
Submit and resubmit to pass projects and assignments with 100% before moving on to the next level.
Network
Mastery By Association
Connect with like-minded people from all over the world about projects, events, opportunities, resources, advice… etc.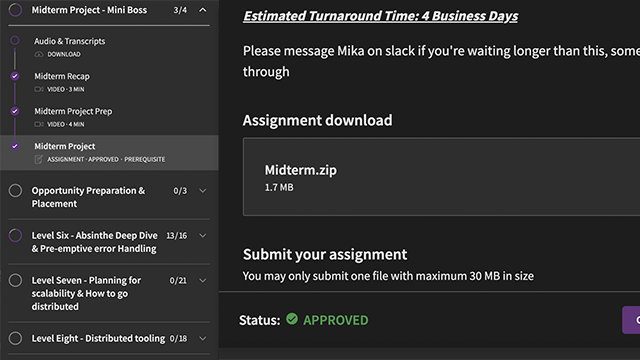 Feedback
Projects + Assignments
Upload your code for review and close the feedback loop to be certain you program at a production-level quality of code.
Live Coaching
Weekly Q&A Sessions
Connect with an Elixir expert every week or listen to the zoom call recordings in your spare time.
We're here to help.
Not sure if Learn Elixir is the best resource to help you reach your goals? Feel free to either connect with us on a quick call or skim through our Frequently Asked Questions.